Religious Education for Children Grades K-5
Program Overview:
The K-5 Religious Education Program at St. Anne Parish strives to catechize our children about the Catholic faith, to develop and strengthen their relationship with Jesus Christ, and provide a strong base for their life-long journey of discipleship. The program also includes formation and preparation for the sacraments of Baptism (when applicable), First Reconciliation, and First Communion. This is typically done in a classroom setting using a variety of teaching techniques.  Grade 1-5 lessons are based on the Alive in Christ textbooks from Our Sunday Visitor. Kindergarten uses leaflets from the Allelu! program.
Through a combination of weekly attendance at Mass, daily prayer, service in the community, regular attendance at RE classes, and review of the lessons at home, a student that is catechized in the RE Program throughout their elementary school years should finish 5th grade with a basic understanding and knowledge of the following areas:
– Revelation: basic teachings and Traditions of the Catholic Church; key stories of Scripture
– Trinity: beliefs about God the Father, Son, and Holy Spirit; Creed; prayer
– Jesus Christ: miracles, teachings, and life of Jesus (Paschal Mystery); Real Presence
– The Church: hierarchy of the Church; liturgical year/seasons; Mary and the Saints; vocations
– Morality: Ten Commandments; Great Commandment; Beatitudes; forming conscience; virtues
– Sacraments: the who, what, when, where, and why of the 7 sacraments; grace; sacramentals
– Kingdom of God: living as a disciple of Jesus in the world; heaven; Second Coming
The student will be prepared to move to DASH – Junior High Religious Education  in grades 6-8 to begin preparation for the Sacrament of Confirmation 
Contact: Cathy Gillooly, Director of Religious Education KN through Grade 5
reo@stanneparish.org; 630-554-1425
Grades K-5 Class Schedule:
Students attend for an hour once a week, mid-September through mid-May.  Classes are offered on Monday, Tuesday, and Wednesday with two sessions each night at 4:30 and 6:00 PM. We do our best to honor your preference for day/time but may not always be able to accommodate your request if a session is full.  Classes are assigned first come, first served when registration begins over the summer.
Click here for the 2018-2019 K-5 Class Schedule
Expectations:
– It is expected that students be enrolled every year (grades 1-8) to learn all that they need to know about their faith at every age.  Note: Kindergarten is also offered and encouraged.
– Parents are the first and most important catechists in a child's faith formation. Please attend Mass as a family each week, pray together and practice reciting prayers, review the RE sessions at home each week, and share your own faith story with your child.
– Review the 2018-2019 RE Handbook  on the Parent Page for further details of our program expectations. 
Lesson Schedules:
If your child misses class for any reason (such as illness, emergency, weather, holiday breaks other than Thanksgiving and Christmas) please use the appropriate grade level lesson schedule below to determine which chapter/lesson to do at home to stay caught up.
Note that completing make-up work is strongly encouraged for all grades but required for grades 1 and 2. Go over the lesson with your child and have them complete the chapter review. The following week your child should show their catechist the completed review.
2018-2019 Kindergarten Lesson Schedule
2018-2019 Grade 1 Lesson Schedule
2018-2019 Grade 2 Lesson Schedule
2018-2019 Grade 3 Lesson Schedule
2018-2019 Grade 4 Lesson Schedule
2018-2019 Grade 5 Lesson Schedule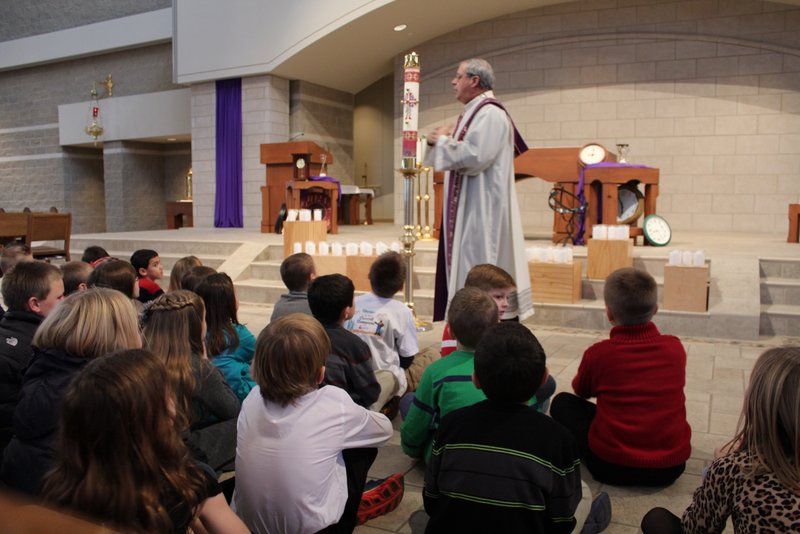 Visit these websites from Our Sunday Visitor for activities, games, and information for students, parents, and the whole family:
http://aliveinchrist.osv.com/paris
https://www.osvparish.com/TeachingCatholicKids.asp
http://lifelongcatechesis.osv.com/
http://www.allelu.com/
Sacramental Preparation:
Any child over the age of seven who is not yet Baptized can prepare for the sacrament through the RE program.  Details of the preparation process will vary based on the child's age and religious background.
Preparation for First Reconciliation and First Communion is a two-year program.  This is typically in grades 1 and 2, with Reconciliation being celebrated in November/December and Communion in April/May of 2nd grade.
Children in grades 3-7 who have had no prior religious education must attend RE classes with their age-mates to learn the basics of the faith. In addition, they must attend sacramental preparation classes on several Sundays throughout the year to prepare for First Reconciliation their first year, and First Communion their second year.
For Sacramental Formation, you can click here to go to our SACRAMENTS page. 
SPICE: Special People Included in Catholic Environments
We are all special in God's eyes. Having a disability does not mean that a person doesn't have gifts to share. At St. Anne Church, we want all our parishioners to have the ability to learn the Catholic faith, to grow in their relationship with God, to receive the sacraments, and to love and serve the Lord.
Our Religious Education SPICE program strives to make this possible by providing extra support in our regular RE classrooms and/or working with students one-on-one or in small faith groups as needed.  If you have a child with special needs, please contact the Religious Education Office and we will work with you to make the best placement and adaptations for your child.
Teen SPICE
This group meets once a month throughout the school year and invites teens with special needs to explore and deepen their faith through discussion, prayer, activities, and service.  Please contact the Religious Education Office if you have a teen who is interested in joining the group.  Any teen (ages 13-21) with any special need is welcome, whether they have received their sacraments or not. 
Many volunteers are needed for our SPICE program to be successful.  We need people to serve as SPICE Catechists and Aides, as well as Teen SPICE Leaders.
Contact: Cathy Gillooly, Director of Religious Education KN through Grade 5
reo@stanneparish.org; 630-554-1425 or
Jenine Boes, SPICE Coordinator
t.j.boes@att.net; 630-554-2502 
Liturgy of the Word for Children
Liturgy of the Word for Children is offered during the 9:15 AM Sunday Mass year-round for children in Pre-School through 1st Grade.  The children are dismissed from the Church after the Opening Prayer to process to the Chapel to participate in the Liturgy of the Word using child-friendly language.  During the Presentation of the Gifts, the children return to their families in the Church for the remainder of Mass.
Please note: Children preparing to receive their First Communion and those who have already received First Communion should remain in the Church for the entire Mass rather than attending the Children's Liturgy.  Thank you.
Join a Team and Spread the Gospel!
Although it is the goal of St. Anne Parish to offer Liturgy of the Word for Children every Sunday, that is only possible when we have enough volunteers. Please consider joining a team of adults who work together using the provided Leader's Guide to present the readings, a mini "homily," and the Prayers of the Faithful in language the children can understand. The commitment is about one Sunday per month.  
Contact: Cathy Gillooly, Director of Religious Education KN through Grade 5
reo@stanneparish.org; 630-554-1425 
Vacation Bible School (VBS)
Registration for VBS 2019 has Begun!
– Student Registration, Adult Volunteer, and Youth Volunteer forms are available in the RE Office and via the links below.
Student Registration Form – VBS 2019
Adult Volunteer Form – VBS 2019
Youth Volunteer Form – VBS 2019
– Completed forms will be accepted in the RE Office, by mail (PO Box 670), by fax (630-554-9797), and by email attachment (reosec@stanneparish.org).
 VBS Fee
– The fee for VBS is $25 per child, which includes a t-shirt, snacks, and craft materials.
– We accept cash or checks (made out to St. Anne Religious Education Office) in the RE Office or by mail.
– You can pay by credit card (with an additional service fee included) through the PayPal link on our parish website at https://stanneparish.org/paypal-options-for-re-tuition/.
* You do not have to have a PayPal account to use this option.
* Scroll down to the "Monthly Payment Options" section and choose your amount from
the drop-down box (you can use $25, $50, or a combination of the two depending on
your number of children).
* After you make a PayPal payment, please email reosec@stanneparish.org to let us
know the amount and that it is a VBS rather than an RE tuition payment.
– The fee is waived if a parent volunteers for VBS.
– No child will be turned away due to finances. Speak to Cathy Gillooly about options.
VBS Volunteer Info
Youth Volunteers:
– There are a limited number of spots open for youth volunteers (grade 6 – high school) so be sure to turn in your volunteer application as soon as possible.
– Spots will be filled first-come, first-served and your spot is not secure until we receive your application.
– VBS does count towards service/discipleship hours for all DASH levels.
Adult Volunteers:
– Adults are needed to supervise/assist the youth volunteers in each activity area and to travel from station to station with the campers.
– All volunteers over the age of 18 must complete the Protecting God's Children program. This includes a criminal background check, 3 personal references, reading 2 diocesan policies, and attending a 3-hour PGC workshop. The paperwork you need is available in the RE Office.
We have a PGC workshop scheduled here at St. Anne before VBS starts:
Saturday, June 1 from 9 AM to Noon
VBS Décor & Set-Up
Adult, youth, and child volunteers are needed on May 28th, 29th, & 30th from 9:30 AM to 3 PM to help make the VBS scenery and décor. Children under 6th grade must be accompanied by an adult. Feel free to come and go as your schedule allows on these days.
Adult, youth, and child volunteers are needed on Sunday, June 9th from Noon to 3:00 PM to help set up the VBS scenery and décor. Those adults & youth who signed up to help as "team volunteers" for VBS should plan to attend the set-up.
Contact: Cathy Gillooly, Director of Religious Education KN through Grade 5
reo@stanneparish.org; 630-554-1425
Children's Library
Our children's library is located in the Joachim Center.  At the current time we have selections that deal with Scripture, Saints, prayer, story books, and other titles that are sensitive to major issues that children in the elementary grades sometimes must face.  We also have a few puzzles and VHS/DVD videos available for check-out.  Families are welcome to use the books and puzzles while in the Joachim Center and/or to check out books, puzzles, and videos to take home for a few weeks.