Liturgical Minister's Schedule
Current Liturgical Minister Schedule
Altar Servers
Altar Servers are a group of volunteer girls and boys who assist the priest in celebration of Mass. Any boy or girl in the parish who has received his First Communion and has finished the Fourth Grade may volunteer. Servers are encouraged to continue serving for as many years as they want to. Training sessions for all new servers interested in serving are held yearly.
Contact:  Andy Ebervein, 630-276-8230; altarserver@stanneparish.org
Eucharistic Ministers are trained to distribute the Eucharist under both species and commissioned at Mass by the Pastor Eucharistic Ministers should show the greatest reverence for the Most Holy Eucharist by their demeanor, their attire, and the manner in which they handle the consecrated bread or wine.
We plan special programs throughout the year for all Eucharistic Ministers to encourage personal reflection and spiritual growth on the importance of their ministry.
St Anne Eucharistic Minister Training Manual 05302017
Contact: Jodi Brummel, 815-735-0834; brummelj@aol.com
Lector Ministry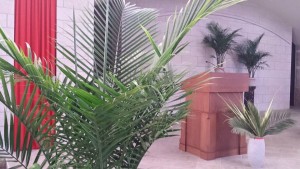 The Lector Ministry is a very important minister in the Liturgy of the Word. In proclaiming the Word of God, the Lector announces the message of God's love, so as to enable those attending Mass to not only understand the Word, but to also live it and share it with others. Lectors at Saint Anne Parish are people who spend time preparing to deliver the readings. They also spend time in training and learning more about proclamation techniques.
Contact:  Beth Ebervein, 630-276-3877  lector@stanneparish.org
Ushers/Greeters
The purpose of Ushers is to greet and welcome people to each Liturgy as well as be available to assist as the need arises throughout the Mass.
There are twelve teams of Ushers/Greeters, five per team. A team will Usher/Greet at the assigned Masses on either a Saturday or Sunday.
Contact:    John Medina, 708-404-5501; jmmedinajr@comcast.net
Liturgy of the Word for Children
Liturgy of the Word for Children is offered during the 9:15 AM Sunday Mass year-round for children in Pre-School through 1st Grade.  The children are dismissed from the Church after the Opening Prayer to process to the Chapel to participate in the Liturgy of the Word using child-friendly language.  During the Presentation of the Gifts, the children return to their families in the Church for the remainder of Mass.
Adult volunteers work together in teams to lead the Children's Liturgy on a rotating basis so that the commitment is approximately one Sunday per month.  Materials are provided to assist team members in preparing the liturgy.
Contact: Cathy Gillooly, 630-554-1425; reo@stanneparish.org