O.C.I.A. – Order of Christian Initiation of Adults
HOW DO I BECOME CATHOLIC?
Have you ever thought about becoming Catholic but didn't know how? This short video explores the process for unbaptized and baptized persons seeking to become Catholic or learn more about the Catholic faith.
O.C.I.A. STEPS
The Pre-catechumenate, or period of inquiry, welcomes newcomers to ask questions and share their stories as they begin to learn more about the Church.
The Catechumenate is a time of serious and dedicated formation, often in a group setting with other newcomers to the Catholic Faith.
The Period of Purification and Enlightenment, which coincides with Lent, is a period of continued instruction coupled with more intensive preparation and prayer.  This period culminates with the Sacraments of initiation (baptism, confirmation, holy Eucharist), bringing the candidates and catechumens into the full communion of the Catholic Church, usually at Easter Vigil.  (A candidate is a baptized Christian; a catechumen is an unbaptized candidate.)
Mystagogyis the time after the newly initiated have been fully received into the Church.
All of these stages are marked by distinct liturgical rites.
Period of Inquiry can begin at any time.
If you, or anyone you know, is interested in becoming Catholic, or is simply interested in the Good News of Jesus Christ, please contact:  Deacon David Brockman, 630-383-2331; ocia@stanneparish.org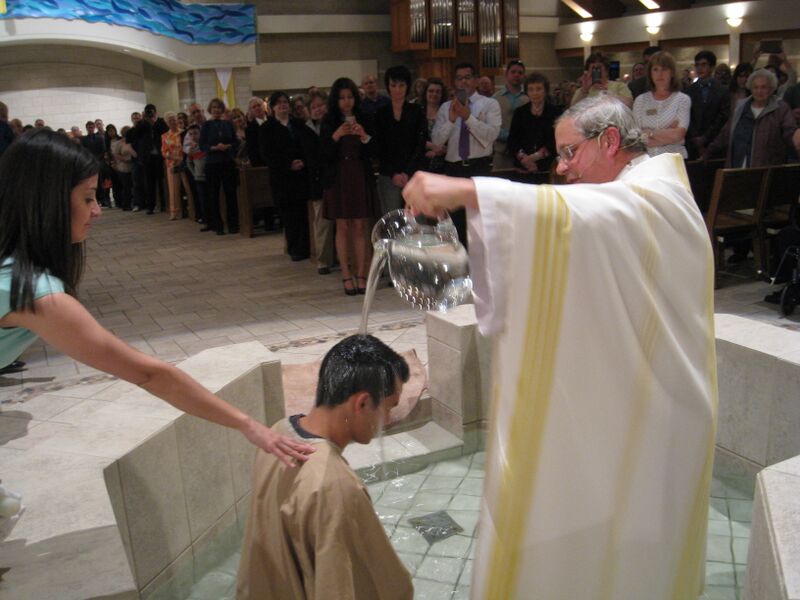 Are you interested in learning more about the Catholic Faith?
Are you un-baptized but recognize a need for spirituality in your life?
Are you baptized Catholic but never received any formal religious education or have never been Confirmed?
Are you baptized into another denomination and want to become Catholic?
Are you married to a Catholic and attend Mass but just don't know what the next step is to becoming one of the Catholic faithful?
Are you yearning for something more in your life?
Order of Christian Initiation of Adults (O.C.I.A.) is a spiritual journey in faith to discover what it means to follow Jesus as a Catholic Christian and the joy and freedom that can result from journeying with Christ. Every year adults are welcomed into the Catholic Community through O.C.I.A. It is a learning and loving process in which conversion of the heart brings you to Jesus Christ who is our Lord and Savior.
"Come to me, all you who are weary and find life burdensome, and I will refresh you. Take My yoke upon your shoulders and learn from Me, for I am gentle and humble of heart. Your souls will find rest, for My yoke is easy and My burden light." Matthew 11:28-30
O.C.I.A. is for three groups of people:
Those who have never been baptized in any faith,
People who were baptized in another Christian faith, and
Baptized Catholics who have never received the Sacraments of Confirmation and Eucharist.
O.C.I.A. has several aspects:
Spiritual – candidates attend part of Sunday Mass as a group each week. They learn new ways of praying, and they look into themselves to discover what God is saying to them now.
Educational – candidates learn what the Catholic Church believes about God, about Jesus, about the Bible, and about what the Church teaches.
Community – candidates are encouraged to be part of the parish and to attend parish events and celebrations.
Service – In the Bible, Jesus directs us to "love your neighbor as yourself", and lets us know that "whatever you do for the least of my brothers, you do for me." Following Jesus, O.C.I.A. asks each candidate to participate in acts of service to the needy.
FAQs – Frequently Asked Questions
Is O.C.I.A. like taking a class or course?
It is and it isn't!  Most importantly, O.C.I.A. is a journey which helps a person figure out what God is saying to him or her at this point in life. The emphasis is on personal reflection, prayer, and service to the less fortunate. There are also formal presentations on subjects such as God, Jesus, the Sacraments, and the Scriptures. There are no quizzes or exams.
What is the charge for O.C.I.A.?
There is no cost. O.C.I.A. is an important component of St. Anne's mission statement to: "…faithfully teach and live the message of Jesus."
What if I decide I'm not ready?
Sometimes people begin the  O.C.I.A. journey and, after several sessions, realize they are not ready to be received into the Church. There is no pressure to complete the process, and the door always remains open for them to return to the journey.